Millennial Statistics: How Millennials Work, Live, Spend and Use Technology
The world has changed rapidly in the last 30 years – and so have the new generations.
Millennials are the only generation born before the internet but raised online, so it's just natural they're the ones disrupting the ways the world communicates. The influence of millennial core values can be felt in many areas – from retail to the work market, the world is changing and adapting to their way of thinking.
Today, we'll take a look at some millennial statistics – keeping in mind that it's a large and diverse group. We'll take a deep dive into the data about habits, opinions, and values of people born between 1980 and 1996, with the goal of understanding this generation better.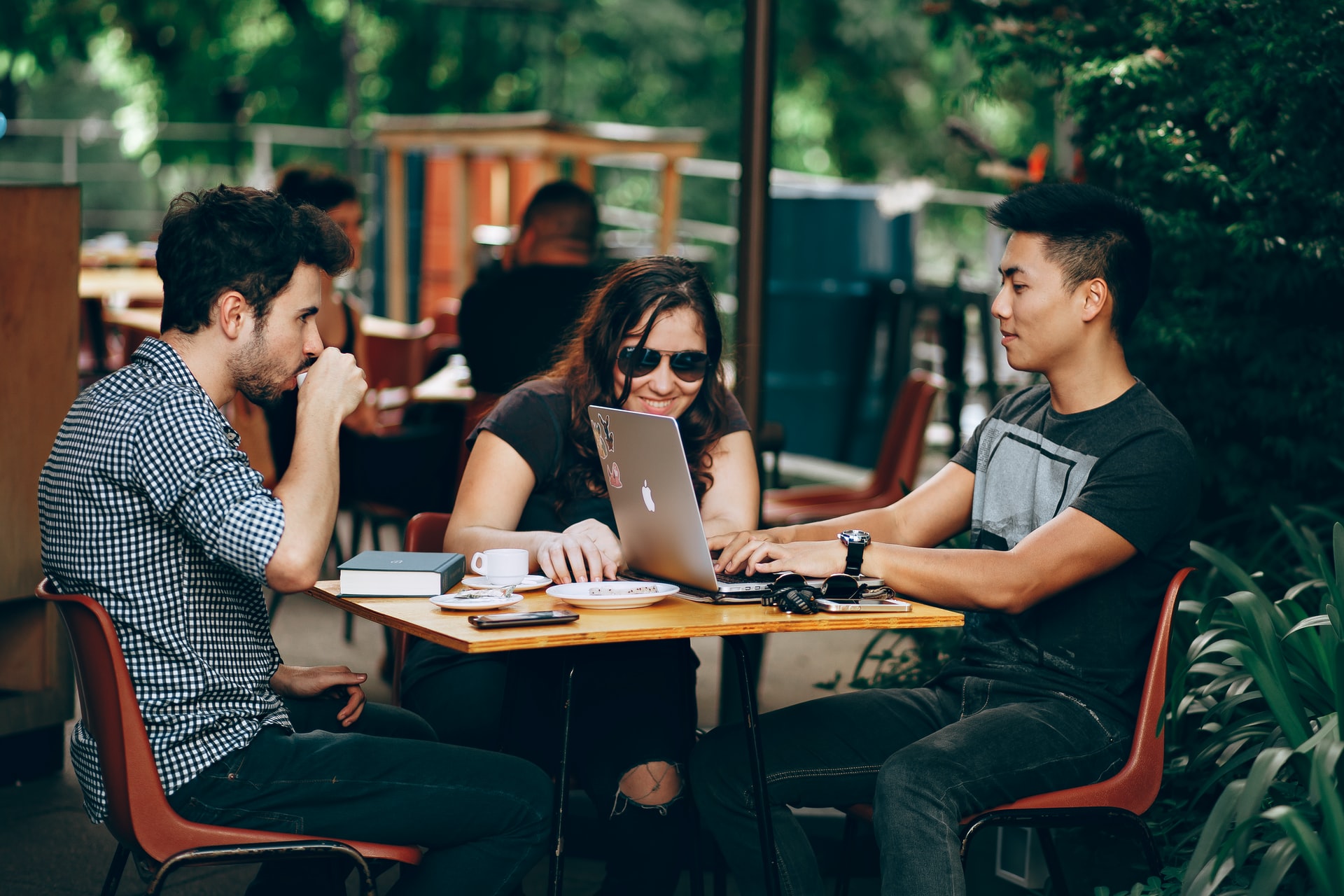 ---
Who are Millennials?
The generation of children born in the 1980s became adults with the turn of the millennium – so the name stuck for the entire generation. They're also sometimes called Generation Y.
The oldest millennials were born in 1980 and the youngest in 1996. In other words, as of 2022, the youngest millennials are 26 years old and the oldest are 42.
The parents of millennials may belong to Generation X (born 1965–1979), Baby Boomers (1946–1964) or The Silent Generation (1928–1945). Generation Z (1997–2012) came right after millennials.
Millennials were the last generation born offline – but adopted the internet a bit later in life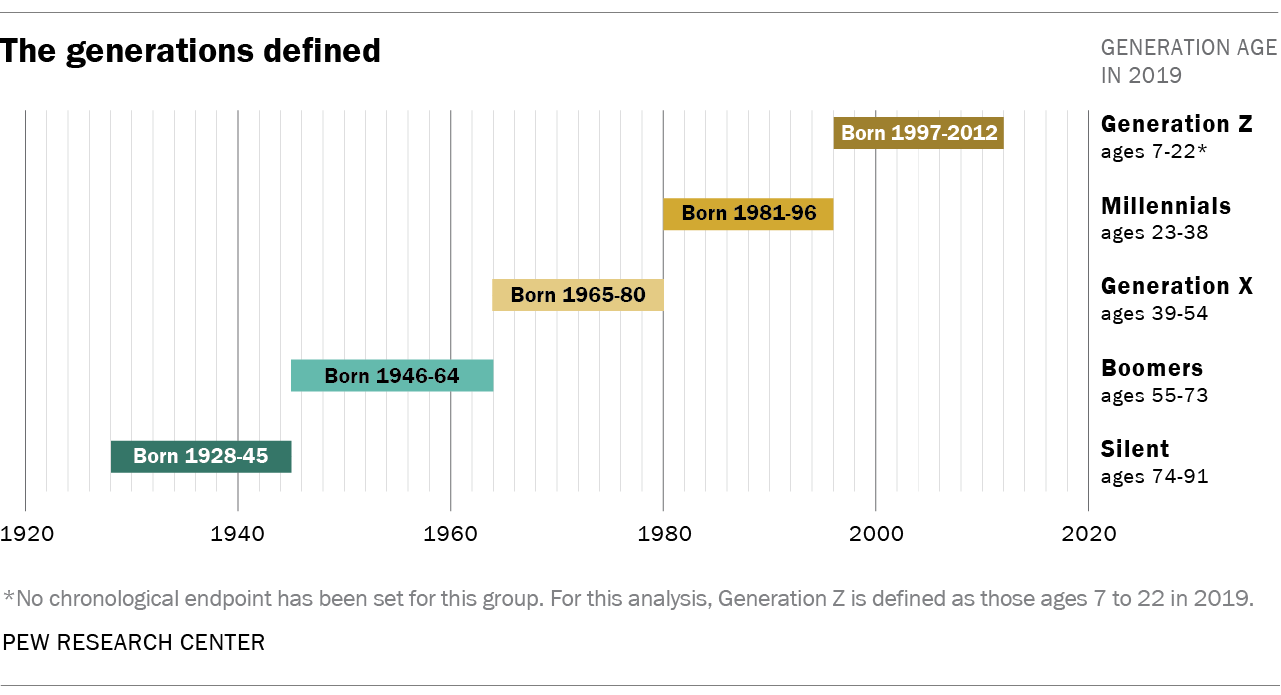 Source: Pew Research Center
Approximately 73 million millennials were born in the US.
In 2015, millennials became the dominant generation in terms of population in the US. Baby boomers are the second-largest generation in the US population – There were never that many Gen X-ers.
Ethnic and racial diversity in the US is growing at a steady rate, so millennials are the most diverse generation until now.
Approximately 30% of millennials don't identify with any religion.
Primary concerns of millennials according to Deloitte: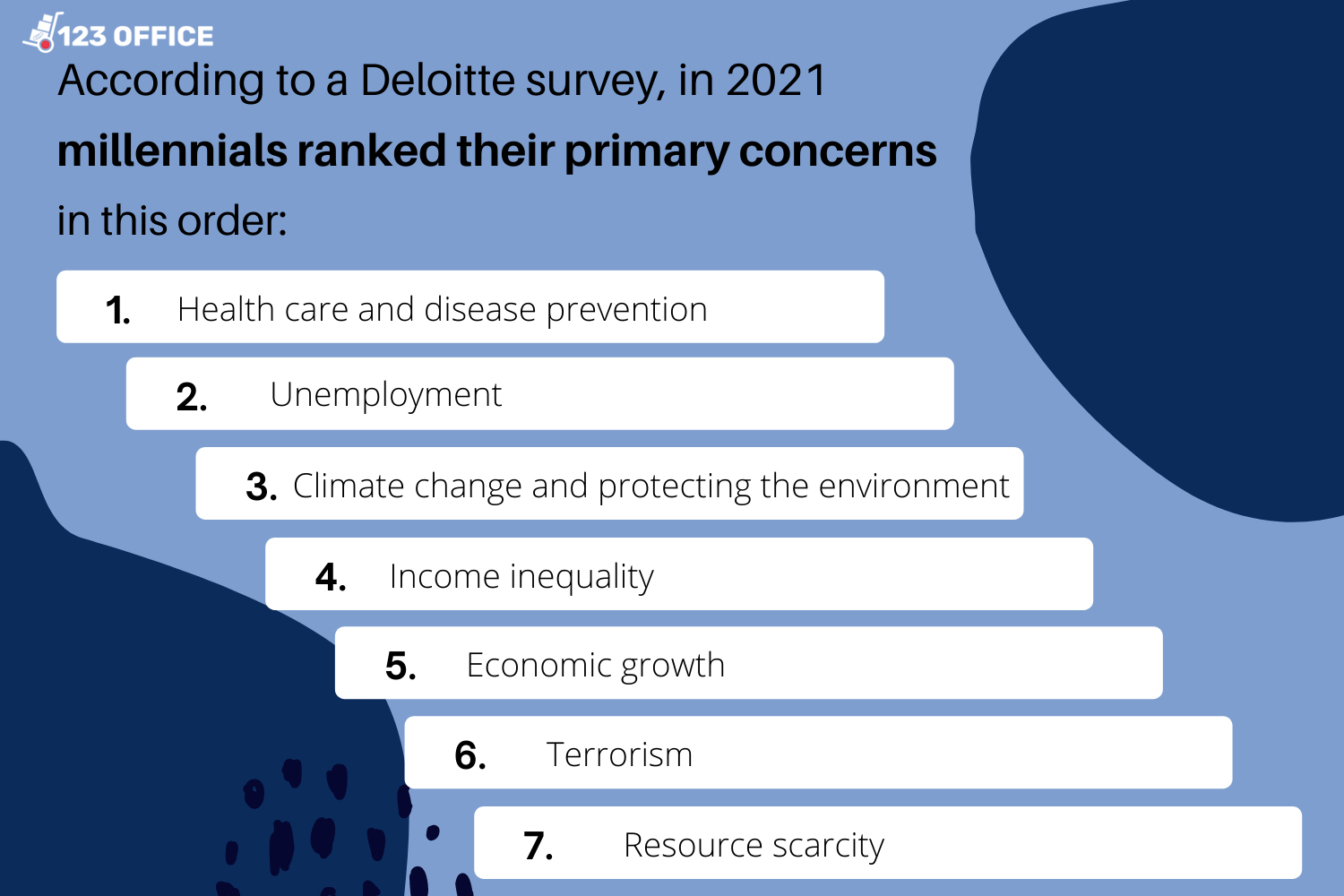 That order was considerably different in the pre-pandemic world.

Source: Deloitte
---
Millennial Education Data
Millennials are among the best-educated generations ever. The boost in education was supported by the wider availability of education (including online resources), the general increase in wealth, higher competitiveness in the work marketplace, and increased gender and racial equality.
A high percentage of millennials is highly educated: 39% of millennials hold a bachelor's degree or higher, compared to 29% of Gen X-ers and 25% of Baby boomers.
More people have access to higher education than ever: Only 25% of millennials stopped pursuing education after high school – in contrast to 40% of Baby boomers.
More than 30% of the silent generation dropped out before finishing high school. Over time, that number has steadily declined. 87% of Gen X-sers and more than 92% of millennials have a diploma of high school or higher.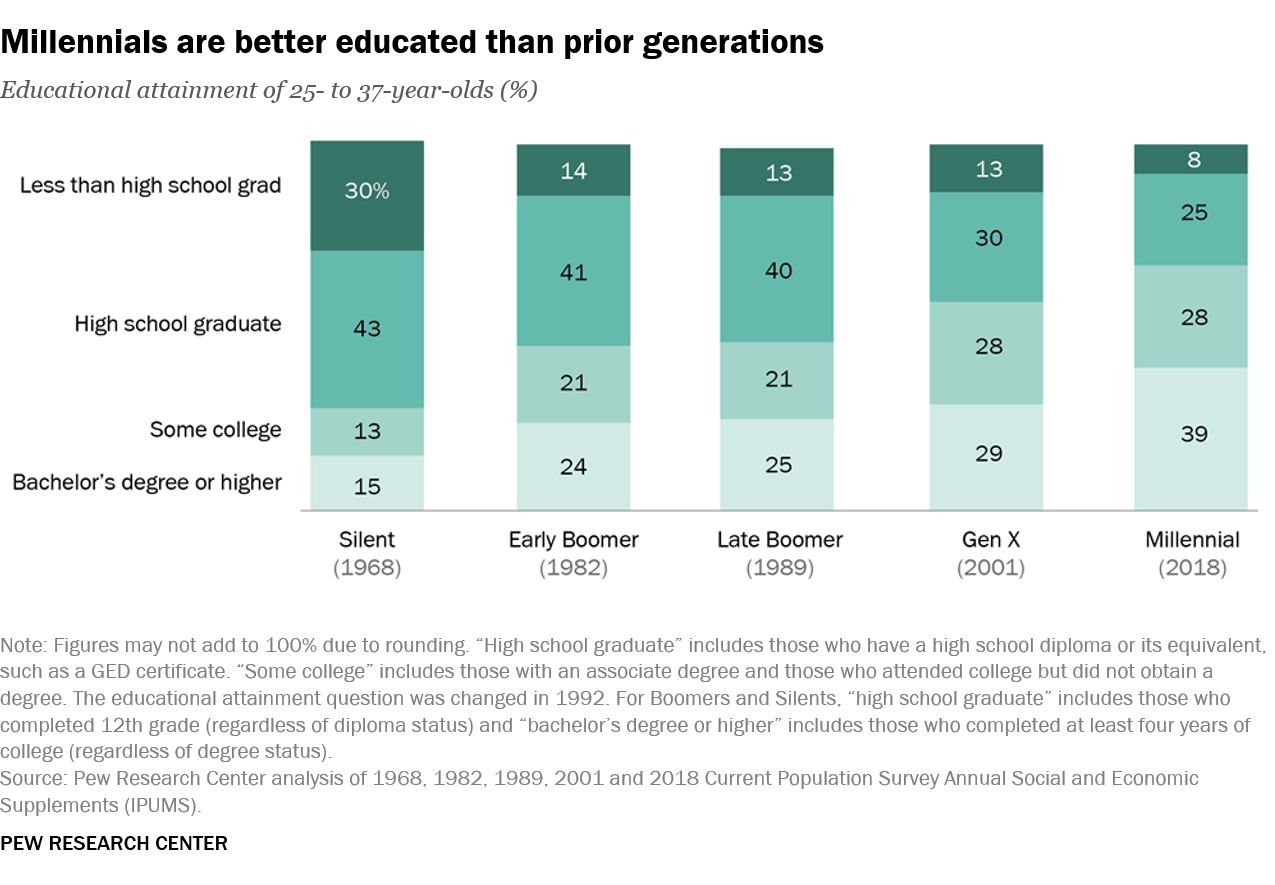 Source: Pew Research
With higher education came higher student loans too. While only 20% of Generation X had student loan balances back in the day, over 33% of millennials had hefty student loan debt to repay in 2017.
According to a report published by the Board of Governors of the Federal Reserve in 2018, the average millennial student loan balance is $18,000. In 2004, the average loan of Gen X students was $13,000. That means millennials need to pay back about 38% more money for getting a higher education than the previous generation did.
---
Housing and Homeownership Statistics
Research conducted by Gallup suggests that about 9% of millennials live alone, 43% live with their spouse (with or without a child), and 28% of millennials live with their parents or other family members.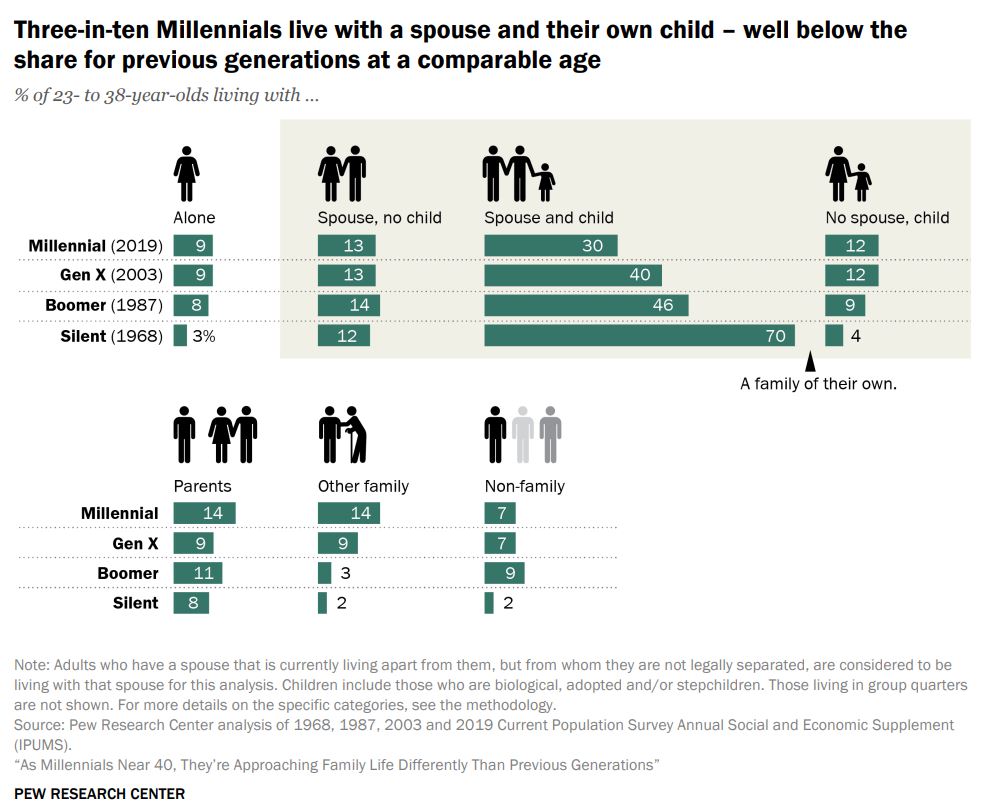 Source: Pew Research Center
Partly due to their younger age and partly due to the economy, far fewer millennials own a home compared to Gen X-ers or Baby boomers. About 33% of people under 35 were homeowners in 2018.
Still, millennials need to allocate a higher percentage of their wages for housing. Millennials spend about 22% of their money on housing, while Gen X-ers spend 19%. Keep in mind that millennials earn less on average too!
The average value of assets owned by millennials in 2016 is $176,000. That's relative to the $227,000 in Gen X-ers' mean value of assets in 2001.
However, millennials do account for the majority of new home purchases: about 37% of home buyers were millennials in 2021.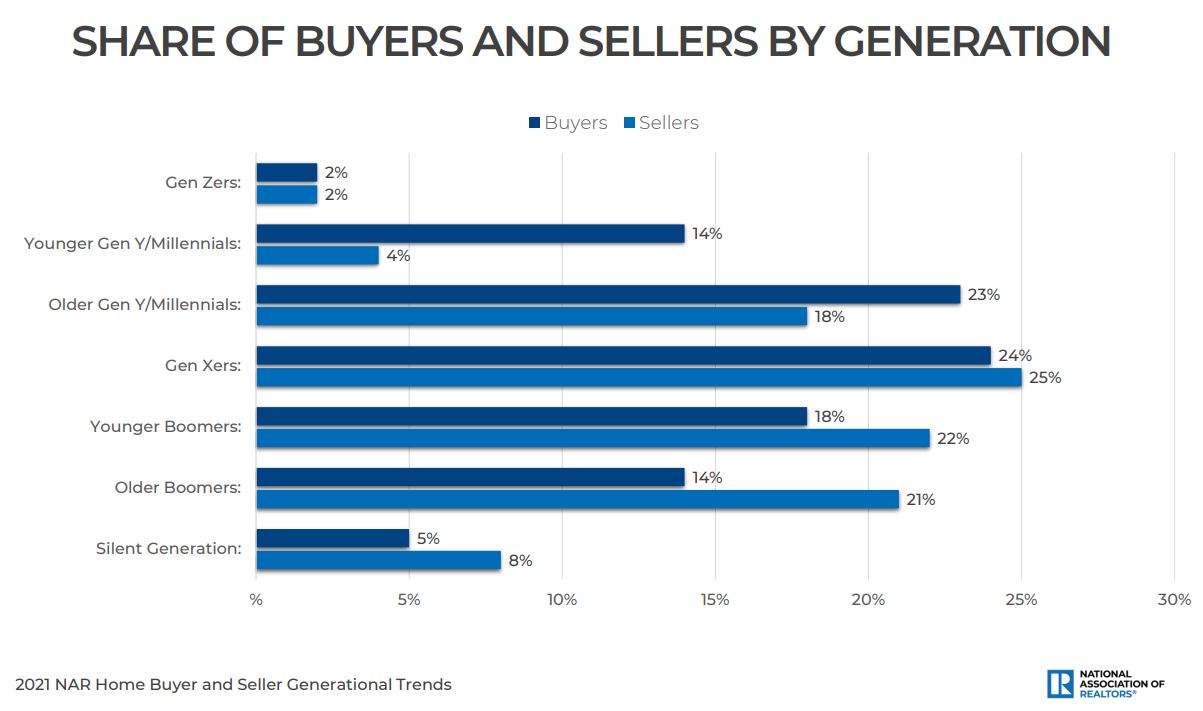 Source: National Association of Realtors
---
The Millennial Family
Millennials marry later: in 2019, the average groom was 30 and the average bride was 28 years old. That's three years later than in 2003 when the average ages of newlyweds were 27 and 25 respectively.
By 2018, approximately 55% of millennial women had given birth to a child. That's much lower compared to the 62% of Gen X and 64% of Baby boomer women who became mothers by the age of 37.
---
The Market for Millennials
Millennials are the only generation that grew up both before and after the internet became widely accessible. Many grew up with a TV as the main source of news, and they remember the tone of dial-up connecting to the web. Yet today, they use web services seamlessly.
It's no wonder millennials have unique requirements when it comes to services and products they buy: 66% say great user experience is their top demand and 78% rely on user-generated content for purchasing decisions.
The work environment is no exception either: known as a highly disengaged generation, it takes learning opportunities and a sense of purpose to make a millennial worker happy.
---
Millennials, Money, and Work
Millennials constituted 38% of the US workforce in 2016. Around 54% of millennials are employed full-time, and 10% are employed part-time but actively seek out full-time opportunities.
In 2021, 86% of millennials worldwide said that worrying about long-term financial health is a major cause of stress.
A U.S. Bureau of Labor Statistics 2020 publication reports a median income of $85,695 in households of older millennials (aged 35-44).
The average millennial is less engaged in the workplace than their older counterparts – they don't put a lot of passion or energy into their work. About 29% of millennials report that they feel connected to their company and work, 55% are simply not willing to go above and beyond for work, and 16% are actively disengaged on purpose.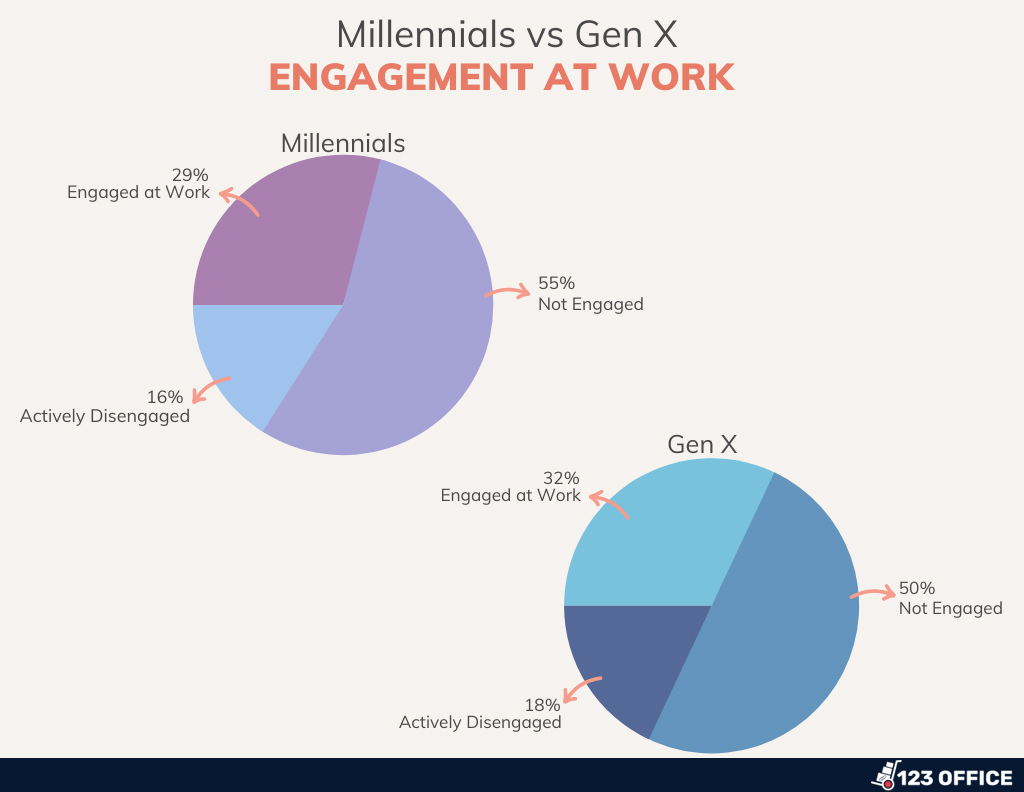 Millennials are known as job-hoppers in the work market. According to Gallup, 6 out 10 millennials say they're currently on the lookout for new opportunities.
Analysis revealed that among the 16% of actively disengaged, about 47% are looking for a new job. That number is much lower among the 29% of engaged millennials – only 17% of them want to find a new workplace.
Among millennials looking for work, 59% say that opportunities to learn and grow is one of their top priorities.
In 2021, millennials in the US ranked their long-term financial goals this way:
Building emergency funds
Paying off credit card debt
Working to retire at the desired age
Affording to make a down payment on a home
Helping parents or family with expenses
Retirement expectations differ between millennials who invest and those that don't. 17% of non-investors expect they'll never retire, while only 8% of millennials with taxable accounts say so.
33% of millennials report that the COVID-19 crisis made it harder to retire at their desired age.
---
Spending Habits
An average millennial allocates their annual spending this way:
21.6% on housing
13.1% on utilities and housekeeping
13.4% on food
17.8% on transportation
12% on insurance and retirement plan
5.4% on healthcare
5% on apparel and personal care
4.5% on entertainment
2.6% on reading and education
1.7% on alcohol and tobacco
2% other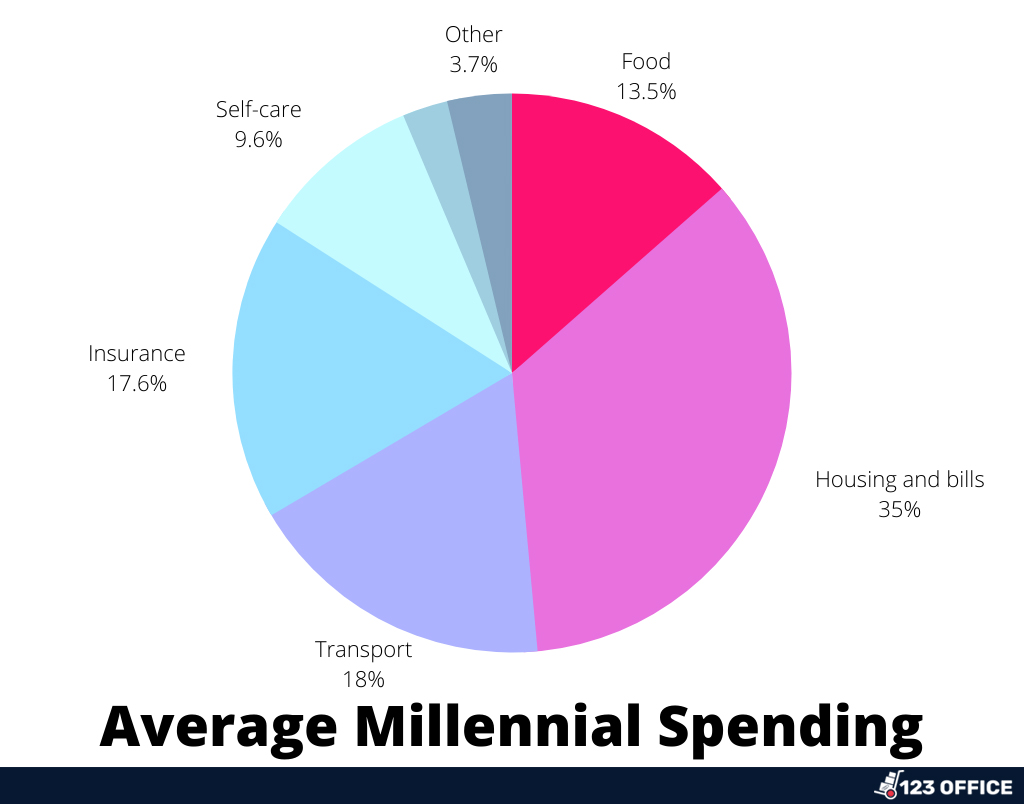 This budget allocation seems to work well – because millennials do have less money to spend on average. After-tax, millennials earned $58,600, Gen X-ers $88,800, and Baby boomers $67,950 on average in 2018.
Millennials spend less on entertainment than older generations. About 4.5% of the millennial budget is geared towards entertainment (fees, tickets, admissions, video and sound, pets, hobby equipment). By contrast, Gen X spends an average of 5.3% and Baby boomers 6% - making for a big difference considering the income disparity.
79% of millennials consider sustainability before making a purchase.
75% would pay more in exchange for a great customer experience.
---
Millennials, Technology, and the Internet
Nearly 100% of interviewed millennials report that they use the internet.
About 19% can only access the web via a mobile device, while 85% of millennials use their phones to browse the web at least occasionally.
81% of millennials used the web to research organizations when looking for job opportunities. That number is 78% among Gen X and 72% among Baby boomers.
99% of millennial home buyers search for info on real estate online. Among them, 59% say they'd be somewhat confident making an offer based on a virtual tour.
Among the new home buyers, 56% of millennials found their dream home on the internet.
When looking for work, 63% of millennials turn to online job sites, relative to 60% of Gen X-ers and 51% of Baby boomers.
Professional network sites are less popular among millennials: 47% use them compared to 49% Gen X-ers.
A 2021 Capco report claims that 78% of millennials use mobile banking and online banking services.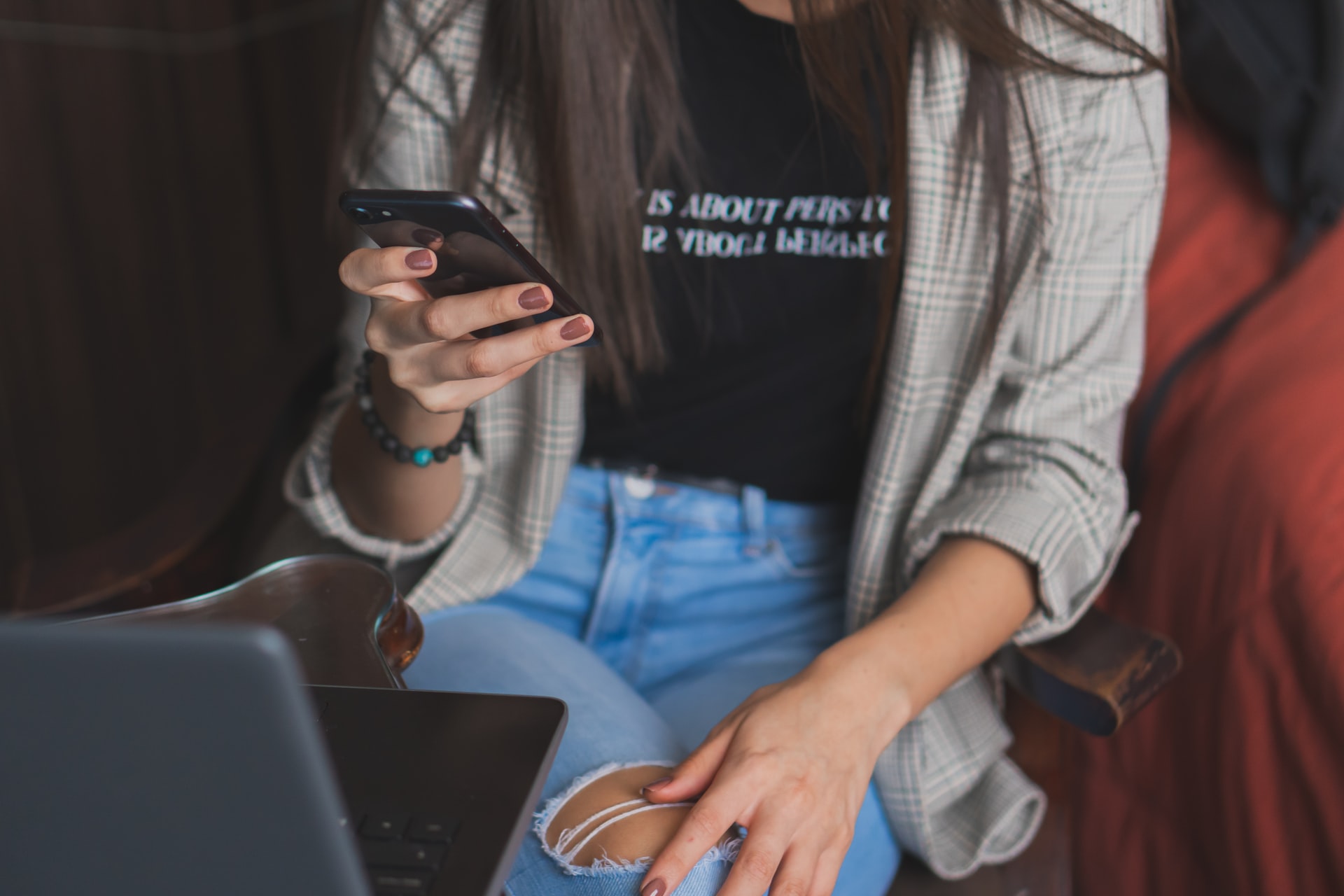 Millennials are early adopters, whether that's Instagram, Facebook, YouTube, or Twitter: among millennials, 86% use social media. Unlike the quickly growing rates of older generations sharing their thoughts on the web, the percentage of millennials didn't change much since 2012.
---
Millennials Witness a Changing World
Millennials are disrupting the market – and how wouldn't they with the unprecedented circumstances and lifestyle they were born into. Born and raised at the turn of the century, millennials witnessed and adopted both the old and the new ways of living, working, doing business, and having fun.
With the growing influence of this group, it's important to let go of old ways and adapt the market to millennials' core values: sustainability, opportunity for growth, and focus on quality customer experience.